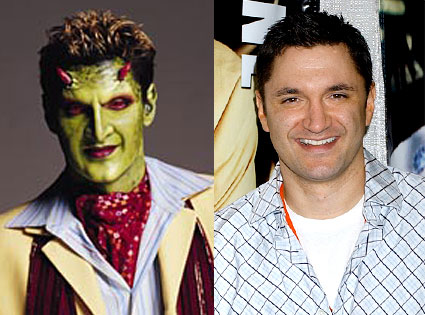 Andy Hallett
, who played the role of Krevlornswath of the Deathwok Clan, or Lorne for short on the vampire drama "Angel", passed away this past Sunday of heart failure. Hallett's character Lorne took advantage of his own singing skills as the owner of a karaoke bar that was open to humans, demons, vampires, and other walks of life (he kept the peace with a spell that prevented nonhumans from committing acts of violence). Along with running the bar his character he also had the ability to see the future of people by having them sing to him (once again referencing his singing talents).
After the show's conclusion in 2004 Hallett worked on his singing career playing several show across the country and singing two tracks on the Angel soundtrack (Angel: Live Fast Die Never) released in 2005. Unfortunately this was also around the time he began his battle with heart disease. He passed away on Sunday at Cedars-Sinai Hospital with his father Dave Hallett at his side.
This is a video of this two tracks "Lady Marmalade" and "It ain't easy being Green" starting at about 3:05 in. The first song is "La Song" by Christian Kane, the actor who played Lindsay).
One of my favorite lines was from the season five episode "Underneath". The scene is of Lorne at a bar mourning the death of Fred who was killed earlier in "A Hole in the World". Its one of the few times in the series where he was not in a cheery mood.
What do I think? I think I'm tired. I think I'm sick and tired of wearing bells on my toes and making like everything's gonna be OK. I think it's pathetic that lately I'm too scared and sad to tell people the truth so I just say what they wanna hear instead. Most of all, I think the term "Happy Hour" should be banned from the English language. There's nothing happy about this hour or any other.
This hour is indeed not happy. He will be missed.