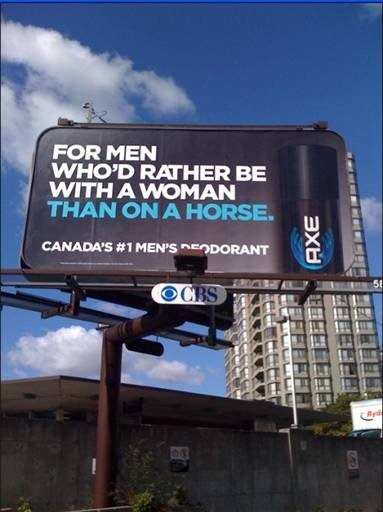 Fro tip to Smart Canucks
As you may have
heard
I'm no friend of Axe. As you may realize I am not a fan of their method of advertising which is pretty much shame young guys into thinking that they are dirty pigs (and I mean that
literally
) that have no chance of getting with women unless they use Axe products to clean up. In short they use sex to sell body spray/shampoo/body wash.
So imagine my surprise when I saw the ad above that's being displayed in Canada.
These folks still have to resort to getting guys to buy their products with promises of getting with women. Their body spray is like 99.9% alcohol. Their shampoo is full of chemicals just like any other shampoo (and more expensive because of their name to boot). Their body wash stinks and doesn't work that well.
Sub standard products, for high prices, pushed with anti-male advertising.
So in short to the devil with their products.